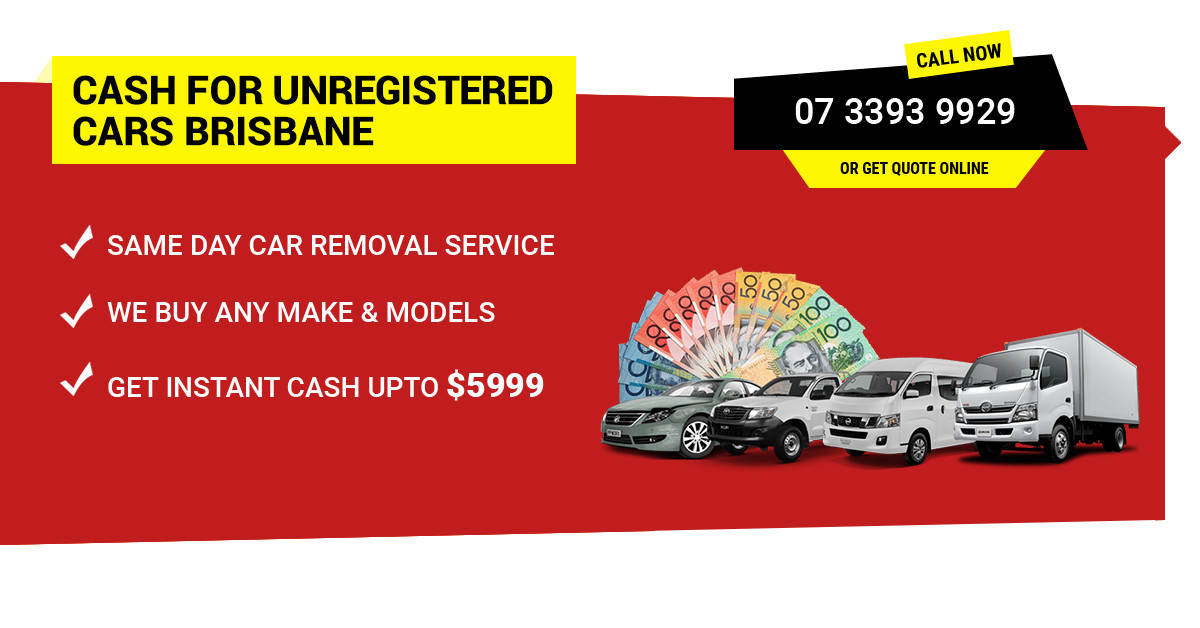 The process of selling a car is obviously not simple. It can be actually daunting if you want to sell any kind of unregistered vehicle in Brisbane, Qld. As you can't avoid the various trouble-some and tedious tasks associated with the sale process. However, this doesn't mean that getting rid of unregistered vehicles is an impossible task.
Fortunately, you can contact with us at "Qld Wreckers" and easily escape all the hassles related to selling unregistered cars. Whether you have car, van, Ute, SUV, Truck or 4WD that are not registered. We will buy it for a best-rate cash in any circumstance. Here we are talking about removing your vehicle for top cash in just 24 hours. We have an entire well-versed and trustworthy Auto Wrecking team to provide accurate cash offers. All you need to do is just follow the simple process of contacting us, which involves calling us.
Top Cash for Unregistered Cars Brisbane
Our dependable team makes sure to arrange quick car removals for clients living in any part of Queensland. You can immediately request for a free towing service, after getting a no obligation and free cash offer. Just do it either by completing necessary details in our quote form or make us a call.
And, a team of experts with tow truck will quickly come over to your place. After thoroughly analysing your automobile's situation we will pay you instant money. Just after doing it, we will haul away your automobile to our salvage yard. You don't need to get disappointed about getting an overall lower cash. As there are no towing fees or extra costs related to our smooth car removal process.
We Buy Abandoned Cars of any Brand or Model
When selling your unregistered vehicle to a Cash for Car Company in Qld, you can find a plenty of options. But there is no guarantee if they will actually buy your make and model. As we have heard about many companies that have restricted their preference to buying only some makes and models. Unlike them, the crew at QldWreckers, is really dedicated and enthusiastic to purchase different auto makes and models.
We are proud to open the doors of wrecking yard for all major brands like: Holden, Mazda, Subaru, Toyota, Ford, Nissan, Jeep, BMW, Holden, Skoda, Mitsubishi, Lexus, Daihatsu and more. However, it is only a small list of all the major brands that we like to purchase.
The Best Way to Sell Your Unregistered Car for Cash
Every car owner set a few important goals when they decide to sell their vehicles. One of their most important goals is to earn maximum money for their automobiles. They might be planning to purchase a brand new shiny vehicle or gather funds for any other useful purpose. No matter what your intentions are behind selling your automobile you will definitely want to get top money. And, this is what we guarantee to provide at "QldWreckers".
We have auto appraisers with the finest knowledge in their business. This is why we promise to pay highest monetary value for every type of vehicle. If you want fast cash for your unregistered car, you can do it without any annoyances by calling us. We can pay you the correct amount that can go up to $10K. You can even compare it with any company in the town to rest assured that we are paying highest rate.
How to Contact Unregistered Car Wreckers Brisbane?
Getting rid of abandoned cars out of your property was very troublesome before but not now. Since, Qld Wreckers crew is here to help you. Contact us using one of following method, whatever suits you the best:
Website – www.qldwreckers.com.au
Email – info@qldwreckers.com.au
Phone – 0416 615 100