4×4 Wreckers Brisbane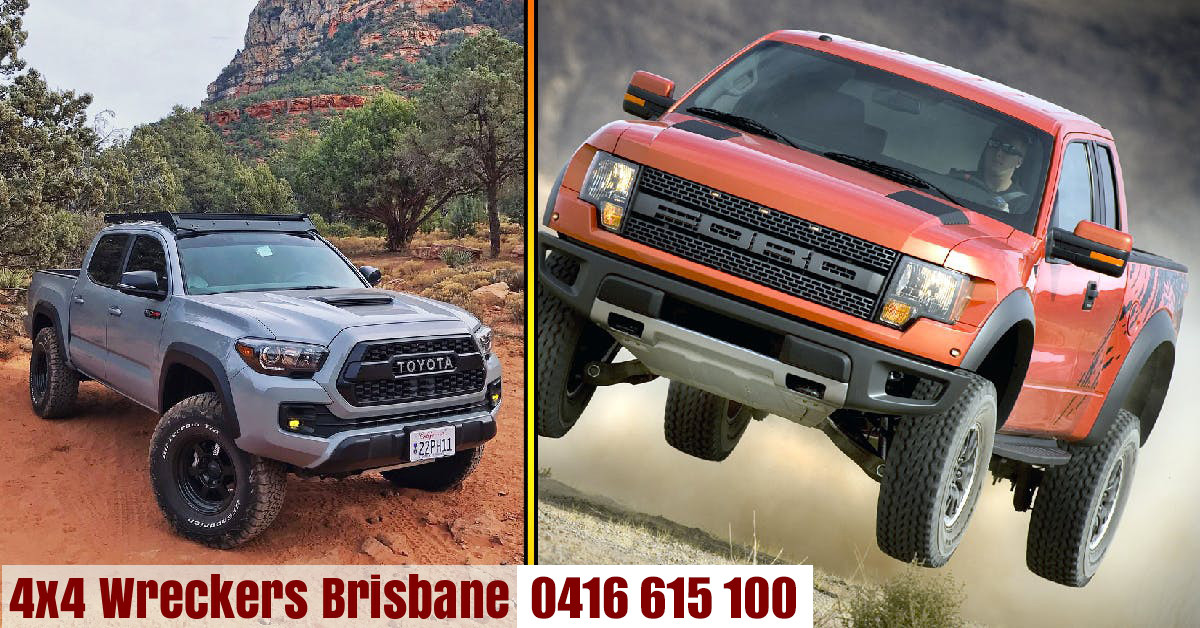 If you are dealing with any of these annoyances below, you need help from our 4×4 Wreckers Brisbane service crew today.
Paying far too much for the continual maintenance of your once trusty 4×4 automobile.
Your budget can't accommodate the escalating cost of repair that your 4×4 is needed every few months.
Your 4WD isn't running at all, and is taking up too much space on your property, either on the lawn or on the driveway.
You are finding it impossible to sell your 4WD because it is in such bad condition.
You need a spare part for your 4×4 but they are too expensive.
If the above problems are causing you a ridiculous amount of stress and mental trauma, then maybe you need to try something different. It is time for you to contact us here at QLD Wreckers. We are the superior cash for cars company in Brisbane, and we pay top dollar for any vehicle that is offered to us. And that includes the not so humble 4WD. The solution to all of the above stress triggers will be found under the same large roof, with our services spanning across Sunshine Coast, Gold Coast, Cairns, and Toowoomba. Continue to read about us.
We provide the fastest and easiest way to sell a 4×4. So if you don't have a lot of time and need to make some fast cash, and you have an old 4WD that you have no use for, this option is for you as well. All you need to do is contact us by calling one of these numbers: (07) 3393 9929 or 0416 615 100. Or you can fill out the form on our website. Tell us the make, model, age and condition. We will get back to you in short order with a free quote.
Free Removal of 4WD's All Make & Models — 4×4 Wreckers Brisbane
Here at QLD Wreckers, we provide a means for folks who have junk 4×4's to be able to actually sell them. Normally junk vehicles are nearly impossible to find buyers for, so many people find this service to be a life saver. However, at some point the vehicle in question is going to require special transportation, either via towing or on a flatbed truck.
At QLD Wreckers, we have our own removal equipment, so there will be no need for you to hire a tow truck or similar service. We will do it all for you. And while our competitors may pay you less for your 4×4 in order to make up for the cost of removal, we don't do this. The cost of removal is completely free. You don't have to pay a cent. How convenient is that?
QLD Wreckers are the superior cash for car service in Brisbane & 4×4 Wreckers Brisbane service provider. It would be a shame if people couldn't take advantage of our incredible services simply because they didn't have the correct make or model of 4WD. And with this in mind, we have made sure that our position when it comes to this concern is that we buy them all. There isn't a single brand of 4×4 that we will reject if offered to us. So if you have a Toyota, Mitsubishi, Holden, Hyundai, Ford, Mazda, or any other brand, we will be more than happy to spend our precious cash to buy it off you.
The same goes for different models. We will buy any Toyota, including Hilux Single Cab or a Prado Hilux Double Cab. We love Nissans, so if you need to sell your Navara D22, Patrol Cab Chassis, or Navara NP300, don't hesitate to contact us.
Any Type of 4WD Condition Wanted to Buy
Normally, if you are trying to sell an automobile of any description, it will be a lot harder if it is in bad condition. If it is in such bad condition that it can be considered to be a junk vehicle, it may seem to be impossible even.
Seeing as we do buy junk cars and scrap automobiles of all shapes and sizes, the condition that your automobile will never serve as a disqualifying factor in our decision of whether to buy it. The fact is that all your 4×4 has to be is non-imaginary. And not stolen. We don't buy stolen vehicles. So whether it has been totalled in a crash, or destroyed in a fire, or has just plain old fashioned lost the battle with time, we will buy your 4×4.
Instant Cash for 4×4 & 4×4 Wreckers in Brisbane
We don't only buy junk 4×4's. We buy 4×4's that are in fine condition. Maybe you just need some fast cash and you have a used 4×4 that is in good condition. We will buy it off you fast and with a minimum of fuss and hassle. If that vehicle is in good enough condition, you could even get up to $15,000 for it.
The point here is that we pay more for 4×4's than anyone in town. Our specialist car valuation experts have a wealth of knowledge in how to estimate the value of any vehicle based on its make, model, age and condition. And they have a clear bias toward paying more money than any of our competitors.
Auto Recycling is good of the Environment
You aren't the only one to win big when selling to us here at QLD Wreckers. There is another party that also stands to benefit from our vehicle recycling operations. Of course, we are talking here about the environment. There are hazardous and toxic materials in your 4×4 that need to be recycled or disposed of properly since abandoned vehicles are not allowed on Qld roads. This includes coolant, battery acid, engine oil, brake fluid, and all the plastics that make up the various components within the vehicle. We make sure they are all disposed of properly, or recycled.
Second Hand 4wd Parts at Affordable Prices
Our 4×4 Wreckers Brisbane service is one of our main services in Brisbane, QLD. Do you need to replace a part on your 4×4? Don't buy brand-new parts. Used parts are affordable, and the ones we sell are just as good as brand new. Call us or fill out the form on our website and book the part you need. If you don't know exactly what you need, our team will be glad to help you. Feel free to follow our Business Facebook Page for daily parts deals.