Mitsubishi Wreckers Brisbane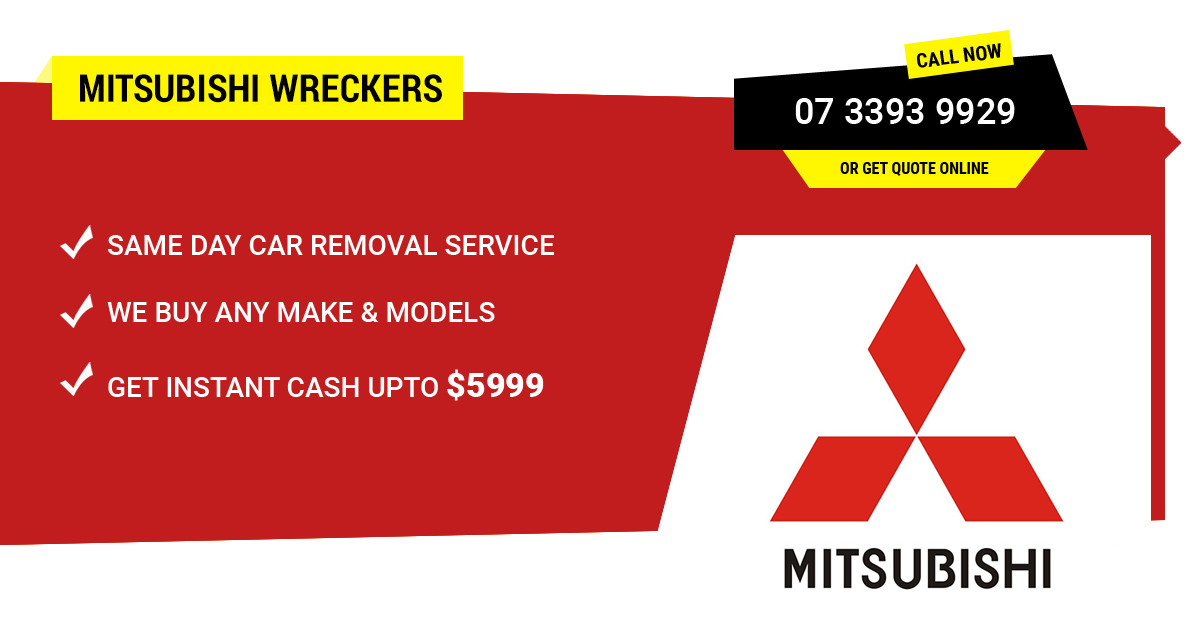 So, you are planning to scrap your unwanted Mitsubishi vehicle and have no idea where to start? Mitsubishi Wreckers Brisbane, Queensland @ Qld Wreckers can help you with that. We are the auto wreckers you can trust.
We buy your old Mitsubishi cars at top prices, remove it for free, dismantle it and sell the functional used parts at best prices.
When you have an aged, damaged, faulty parts, or severely wrecked Mitsubishi vehicle the idea of disposing it might have come to your mind a number of times. But you might be procrastinating thinking that you won't get a decent buyer for it. Auto wreckers @QLD Wreckers have the solution for you.
Well! It's true that no buyer would like to buy a vehicle that need frequent repairs and parts replacement to be running good on the road. But fortunately, there is no need to dilly-dally on having your old Mitsubishi removed anymore. As the recognised and dependable auto QLD Wreckers team is there to help you. We buy, remove and sell used parts, making the best deal for your old Mitsubishi. The best auto wreckers in Brisbane you will found!
Our auto wreckers provide a reliable cash for cars online quote for old, used or damaged Mitsubishi cars. Even if it has been sitting in your garage for a long time. This means selling us that aged vehicle will mean a whole lot more than simply making some space in your premises. Its sale will bring you heaps of cash as long as you are dealing with us. And the most amazing thing is that we provide dependable and convenient Mitsubishi car removal services. Plus, we sell the dismantled parts at reasonable prices. It includes through all the areas of Brisbane and the suburbs that are located near it. From quotation to removal, our auto wreckers handle all.
Quick Mitsubishi Wrecking & Removal in Brisbane
The professional auto removal experts at QLD Wreckers, have been buying and removing old or wrecked Mitsubishi automobiles for more than 20 years now. Whether it's a Mitsubishi car, van, truck, Ute, SUV, 4WD, sedan or wagon. We remove it from your property in a jiffy.
Thus, the removal of your damaged Mitsubishi vehicle becomes a lot easier when you decide to seek our fast, safe and smooth towing services. This is true regardless of whether it is broken, junk, smashed, have faulty parts or non-running. There are no additional costs or deductible towing fees attached to our magnificent car removal services.
As a leading Japanese auto wreckers, we also make sure not to cause any clutter or damage while loading the automobile on the pickup truck. By doing so, we save our customers from incurring any additional costs. Our quality tools, high-end tow trucks and good quality safety resources help in providing really fuss-free services for damaged vehicles and Mitsubishi cars in Brisbane (Southside, North Brisbane) and its outer locations. This includes Townsville, Toowoomba, Ipswich, Rockhampton, Sunshine Coast, Warwick, Gold Coast, Logan, Caboolture, Cairns, Brendale and Rocklea. So, why wait consult with the best Mitsubishi auto wreckers today.
Eco-friendly Mitsubishi dismantling, disposal and recycling
In contrast to private buyers, Brisbane's junk car dealers and other auto dealerships. We are willing to accept any kind of Mitsubishi make or model. Since we are dedicated Mitsubishi dismantling, disposal and recycling experts. They have mastered the art of wrecking and recycling undesirable wheels in the most green and clean manner. We extract the functional parts and keep it for the desired ones. So, if you need Mitsubishi spare parts then reach out to us today.
No matter if your Mitsubishi car is totally undamaged, wrecked or run-down, they will still be highly useful to us. We will remove the recyclable and useful materials of your automobile, including parts, accessories and metal items and then repurpose them. And the cherry on the top is that we use eco-friendly and government-regulated standards that are safe for the recycling and refurbishing of auto parts. So, you can be assured that your Mitsubishi is well taken care of. Speak with our auto wreckers now!
Buy Mitsubishi Used Car Parts
Being Brisbane's premier car wrecking team we take great pleasure to offer most competitive rates for used parts and keep our clients satisfied. The best thing is that we pay the guaranteed amount cash instantly during removal, while excluding the extra costs or hidden fees. We are the best Mitsubishi wreckers in Brisbane
Whether you are selling us a vehicle in an intact or totalled condition, you can expect to get a sweet amount of cash for it. However, we are ready to pay up to $10'000 on the spot cash after analysing the condition of the vehicle. The other factors like mileage, make, model and age also play a key role in determining fair offers for automobiles.
We have a range of Mitsubishi parts available. So, whether you need a part for engine diagnostic or any other part for optimal performance, we have it for you. Call our auto wreckers now.
Buy the best Mitsubishi parts now!
Turn your scrap or junk Mitsubishi into money
If your Mitsubishi wheels are unusable, flood-damaged, broken, scrap, wrecked, or even completely busted that they have no usable parts, you may have difficulty in getting rid of it. But still there is no need to take any stress when you choose to hire our super-convenient services. As we buy and take off vehicles with all possible damages. Thus, you can get yourself relieved from all the stress and headache by selling your old clunker to us.
In fact, we can offer you the best way of turning your damaged Mitsubishi into a profitable deal. Give a call to the best auto wreckers in Brisbane now.
Same Day Scrap Mitsubishi Pickup Service Brisbane
At QLD Wreckers we have skilled and trusted auto removal experts who give speedy, hassle-free services to all Brisbane suburbs. Our smooth auto towing services are absolutely FREE of charge and accompanied by paying instant hard cash before removal.
As we have been helping out the unwanted vehicle owners of Brisbane from several decades. We are renowned as the most trusted junk car buyers by most of the customers. This is the reason our seasoned vehicle removal experts try their best to keep their service as simple as possible. We even make sure to arrange the relevant documentation and our clients just need to sign it over.
Moreover, we only use high standard equipment's and quality flatbed trucks for auto pick up. So, you can have the peace of mind that your old ride will be towed away with utmost care.
We Buy All Mitsubishi models & Types
The name of our company is being recognized as the leading buyers of Mitsubishi models in Brisbane. This is why, we don't limit ourselves to buying only specific or popular models. It could be any stylish model of like
Mitsubishi Emeraude;
Montero;
Mirage;
Debonair;
Galant;
ASX;
Mitsubishi Lancer;
Tredia.
Sigma;
Aspire;
Proudia;
Carisma;
Mitsubishi Eterna;
Dignity;
Triton;
Pajero;
Diamante.
More Information
Furthermore, we assure you only the best price deal and friendly customer service that you deserve. This means you don't have to wait for getting online cash assessments. Our experts provide decent quotes online and over the phone. And, if you have any doubts, then you are free to match the written quote with all the other buyers in the industry.
Reasonable Mitsubishi Spare Parts
If you own an outdated or old Mitsubishi model that is running good. But just need some repairs, you may find it hard to fetch the desired Mitsubishi parts for it.
Well! You can easily save your time and money by getting access to our huge second hand Mitsubishi parts inventory. There you will find a wide range of 100% tested and quality parts and accessories that are not easy to get. And, of course our whole range of used spare parts is easily affordable.
To get the part of your auto needs. You just need to call us and speak to our helpful representatives. Even if you don't have good know-how and having trouble in getting the desired part. Our friendly customer care staff is there to support you. You can also get the part transported at your door. But this service will include freight charges.
Contact Mitsubishi Wreckers in Brisbane
As we are passionate scrap vehicle wreckers. We provide smooth, quick and trouble-free transaction process to our customers. In order to get a FREE no-obligation quote from us. You just have to busy your fingers on the phone and dial: 0408 616 667 and share your auto details with us.
You can also drop your auto details via our electronic quote form given on the main page of our site. Our Mitsubishi Wreckers Brisbane team @ QldWreckers will give you an honest and accurate price offer immediately.
Other Brands that We Wreck regularly:
Audi Wreckers
Nissan Wreckers
Toyota Wreckers