Cash For Cars Brisbane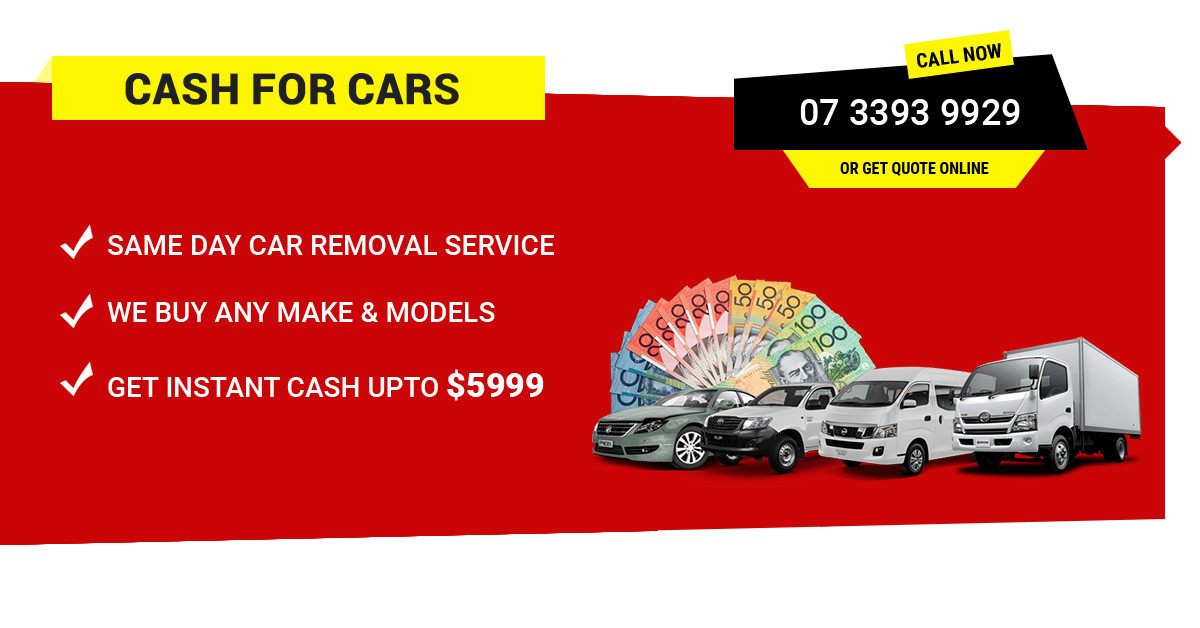 Looking for a reliable car buyer? At Qldwreckers, Our best Cash for Cars Brisbane system is Fast, Simple, Convenient and always pays more. Sell your scrap cars instantly!
Is the financial burden of your old or salvaged vehicle too large to handle? Or maybe you have a rusty piece of junk scrap car that no longer serves its purpose. The likelihood is that it is also taking up some valuable space on your property. The best solution is free scrap car removal!
Whether your scrap cars are languishing on the lawn, or squatting in your garage, no one can blame you for wanting to kick that clunker out. But how? Who is going to buy a junk car? You might be looking for a bother-free car removal and quick auto removal outfit like Qld Car Wreckers Brisbane – the premier cash for cars established in Rocklea, Queensland, AU, offering top cash for scrap cars with free car removals service.
Qld Car Dealers buy scrap cars of all ages and conditions in exchange for the most possible cash. This means if your vehicle is unregistered, mobile or immobile, used or new, or has even failed an MOT, you can sell it to us. And you will be taking advantage of the fastest method there is for selling an old vehicle. We make the scrap cars removal process fast and hassle free!
Additionally, our superb scrap car removal & collection facilities cover all areas in Brisbane. We offer scrap car removals in neighboring suburbs including Cairns, Toowoomba, Sunshine Coast, Gold Coast, Townsville, and Rocklea. We are Canberra car removal specialists. If you are wondering "How much money can I make from my old vehicle?". Give us a call today or check out our website @ www.qldwreckers.com.au to sell your scrap car. One of our responsive team members will respond to you. So, get quick & free car removals from experts!
Cash for Junk Cars Brisbane, QLD
If you don't have a lot of time on your hands, or you find the expense of repairing and advertising the vehicle for sale is too high, QLD's cash for cars Canberra service is the perfect solution for you. When dealing with our professional car buyer, the whole selling process will become as simple as counting to five. This is because we take care of everything, whether it's about providing top-notch Qld auto removal Brisbane services, organizing the paperwork, or paying top cold hard cash on the spot. We do it all including the scrap car removal at no extra cost.
All you have to do is give a good description of your vehicle. You can do this either by using the easy appraisal form on our web page, or through phone. Our cash for cars Brisbane will consider the details and after a short time, provide you with a fair assessment. The moment you accept the offer, we will arrange with you a time and place when we can come over and look at your vehicle. After you accept our final offer, we will then pay you top cash before removing the vehicle. And the car removal won't cost you a single cent. Yes. Unlike other wreckers who charge additional fees for scrap car removals, our car removal service is completely free.
We want to make sure that you get the most money at the end of the day. And this will not happen if you are forced to pay for a tow truck or similar as part of the process of scrap car removals. That is why we provide free car removal. Your convenience is the most important thing to us, which is why we provide free car removals all over Brisbane, Qld. Sell your scrap car and get instant cash!!
Get upto $10000 Cash for Cars Brisbane
We are Queensland's licenced business and registered cash for cars service. Aside from offering excellent auto removal benefits at no cost, we also pay handsomely for your scrap cars. In fact, you can get up to $10,000 cash by utilizing our cash for cars Brisbane service, depending on the condition your vehicle is in. We don't only buy cars either. We buy all types of vehicles, including Cars, trucks, vans, Utes, SUVs & 4WDs. Also, our cash quotes are unbeatable and guaranteed. What's more, we pay cash for cars on the spot. And if you get a better quote than ours, you are free to tell us. We will definitely match it, and in the process pay you large dollars. All of this is on top of the fact that we offer the fastest way for anyone to sell their vehicle.
All of this means that if you are not able to sell your unwanted vehicle for a fair price, don't procrastinate for even a second more. Get on that phone, or get online, and contact Qld Wreckers for free car removal today. We pay instant cash!
Give us a call for free car removal, cash for cars service or auto recycling!
Sell your car as is [no fuss about the condition]
At Qld Wreckers, we have got an extensive network of proficient auto specialists who will pay cash for all scrap cars of all makes and models, as we don't specialise. This is why we have an advanced auto buying system, and we never reject any vehicle. Don't worry about what condition your vehicle is in, as while it will impact the amount of money it is worth, our cash-for-cars specialists will buy it for the best car for cash offer.
If it has been in a fire, or has received extensive damage as the result of a flood, or even if it has been totalled in a crash. Cash for cars Brisbane crew at QLD Wreckers will buy it. The reason is that no matter what its level of disrepair is. There will be value in any parts that can be salvaged. And there will definitely be salvageable scrap metal that we can take from the vehicle. So, why wait? Sell your car to us and get cash on the spot. Call us for car removal today!
Cash for Scrap & Unwanted Cars Brisbane
Our amazing instant cash offers apply to scrap cars of all models and brands. Some cash for clunker services will specialise in only a few select auto makes. Not us. We have an inclusive attitude and will buy any make of vehicle that is offered to us. This includes Ford, Mazda, Toyota, Nissan, BMW, Hyundai, Audi, Dodge, Volkswagen, Mercedes Benz, Lexus, Chrysler, Jeep, Holden, Honda, Subaru, Daewoo, Suzuki, Isuzu, Kia, Chevrolet and many more.
Truck, van, UTE, sedan, used car, old unwanted scrap vehicle; whatever it is, get cash at the moment. What's more, we use eco-friendly methods to help you get rid of your used cars, vans.
Call now to get a quote for our cash for cars service!
Exclusive cash for car deals
Before selling your broken, unregistered, junk, or scrap vehicle. We would encourage you to find out the benefits of selling your wrecked car to professionals with years of experience in the industry. You will not regret learning how much money your vehicle will be worth to us. Our cash for cars Brisbane specialists help you with all.
Finally, it is very easy to get an obligation free cash quote from us. You can call us @ (07) 3393 9929 or submit our online inquiry form with one click. Tell us all about the vehicle in question. This includes the make, model and condition. We pay top cash for scrap cars!
We will get back to you with your free quote in no time at all, and before you know it, your vehicle will be sold!
Cash for Cars Brisbane – An intelligent way to sell your unwanted vehicle in Brisbane! Call now to get a quote!