Ford Wreckers Brisbane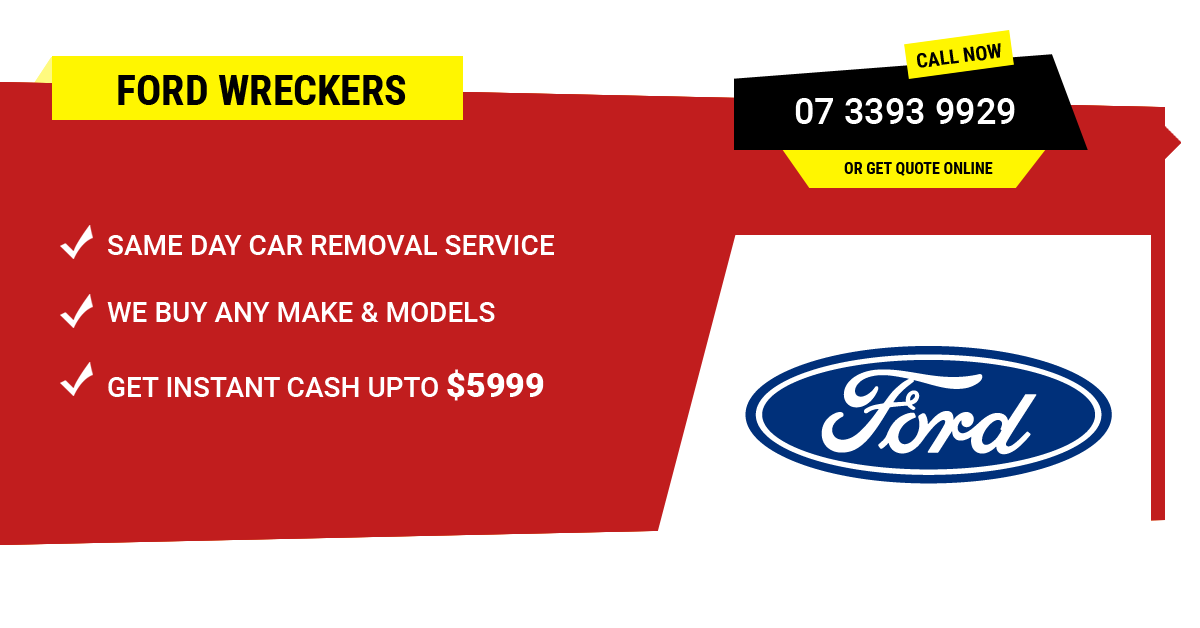 If you have the misfortune of having a scrap Ford Vehicle cluttering up some area of your property in Queensland, You probably already know that this is a problem that needs to be taken care of. But did you know that you could also make money at the same time? That's right, if you live in Brisbane, Gold Coast, Sunshine Coast, Cairns, Rockhampton or anywhere in Qld and your old scrap Ford vehicle refuses to vacate the premises, you must call Ford Wreckers Brisbane Team @ QLD Wreckers and we will pay you top cash for your old Ford truck, car, SUV, van, Ute or 4WD.
Why You Should Choose QLD Wreckers?
We Pickup Ford Trucks for No Additional Cost
One of our priorities concerning our customers is maximum convenience. If we catch you so much as lifting one finger during the whole process we are failing. And with this in mind, we insist on taking on the responsibility of transporting the car to our Rocklea, Brisbane salvage yard. We will do this free of charge. We won't even deduct money from the monetary figure we will pay for the car.
On the other hand, if you are happy to drop out your vehicle at our Rocklea salvage yards @ 50 Macbarry PL, Rocklea 4106 then you are most welcomed.
We follow, eco-friendly method to recycle and dispose of the car. Our auto wreckers extract the functional parts from the car, recycle the scrap metal and ensure environmental friendly wrecking.
Additionally, if you are looking for specific second hand parts for your Ford vehicle, then we can help you. We have a wide range of auto parts available for all kinds of vehicle makes. From engine diagnostic parts to transmission repair auto parts. We have it all.
Get up to $12'000 Cash for Ford Trucks, Utes & 4x4s
When it comes to getting the best price for your vehicle, you cannot deny Qld Wreckers cash offers. We do the best cash for car deals in Brisbane and the rest of Qld. 100% Customer satisfaction assured. With top cash for cars, free removal and availability of second hand parts for Ford vehicles, make us one of the best services out there.
We Buy All Ford Car & Truck Models in Brisbane
The more cars we get, the better, and Ford is no exception to this rule. If you have a Ford model that you are worried we won't buy, let us reassure you that there is indeed no Ford model that doesn't deserve our money.
Ford Ranger Super Cab
Ford F-150 Regular Cab
Grand C-MAX
Ford Mustang
Ford Transit Connect
Orion
Edge
Ford Figo
Focus
Ranger Double Cab
Ford Explorer Sport Trac
Expedition
Ford GT
Explorer
Escape
Taurus
Ranger Regular Cab
Ford F-150 Super Cab
Fiesta
Transit
Ecosport
Fusion
Everest
Flex
Galaxy
Tourneo
Sierra
Probe.
Sell Your Ford in Any Condition – Broken – Rusty – Junker – Dead or Alive
The whole theme of buying vehicles, regardless of their make, model or shape extends to the condition the car is in. You don't need to clean the car or fix any scrapes or dents before showing it to us, as we are buying it for recycling purposes. It can have defected parts, it can be a complete and utter wreck as far as we care. As long as it's a vehicle of some description, it doesn't matter if it is running or half eaten by rust.
We do not care about the condition of the vehicle because on the occasion of certain part of the damage, we part out the vehicle using our Auto Dismantling techniques and recycle metal and car parts for different resources.
What's more, we stock genuine parts of scrapped parts which can later be used on other Ford makes. So, why wait? If you need authentic used car parts, then call us!
Second Hand Ford Parts at Affordable Prices
If your Ford has broken down and you need specific parts in order to fix it. You can rely on us to provide those parts at a price that won't leave your family starving for a week. Just call us or fill out the form on the website to book your Ford car parts online today. They are in excellent condition and waiting for customers to snap them up.
We extract the parts from wrecked vehicles, inspect these parts and then fix them for sale. We then test these car parts for their functionality and then put them on sale. So, you can be assured of getting high-quality used parts from QLD Wreckers. Buy the best parts at the lowest prices.
Contact Qld Wrecker's Ford Truck Wreckers
Contact your local Ford Wreckers Brisbane team @ Qld Wreckers and unwrap the hidden value of your Ford vehicle now. Again, there is no charge for getting a quote. Feel free to share the vehicle information as much as possible, it will help us to fetch out the best price for your car.