At some point of time we all need to sell our used vehicles. It can be due to increasing cost of maintenance and repair. Sometimes you may need to upgrade your car because it doesn't run well and no more beat the safety standard.
Well! It doesn't matter why you need to dump your old vehicle. All you will want is to get the best possible cash for car irrespective of its condition.
Luckily, Caboolture Auto Wrecking team at Qld Wreckers can make this happen for you. They are the premier scrap car removal business operating in Caboolture, Queensland.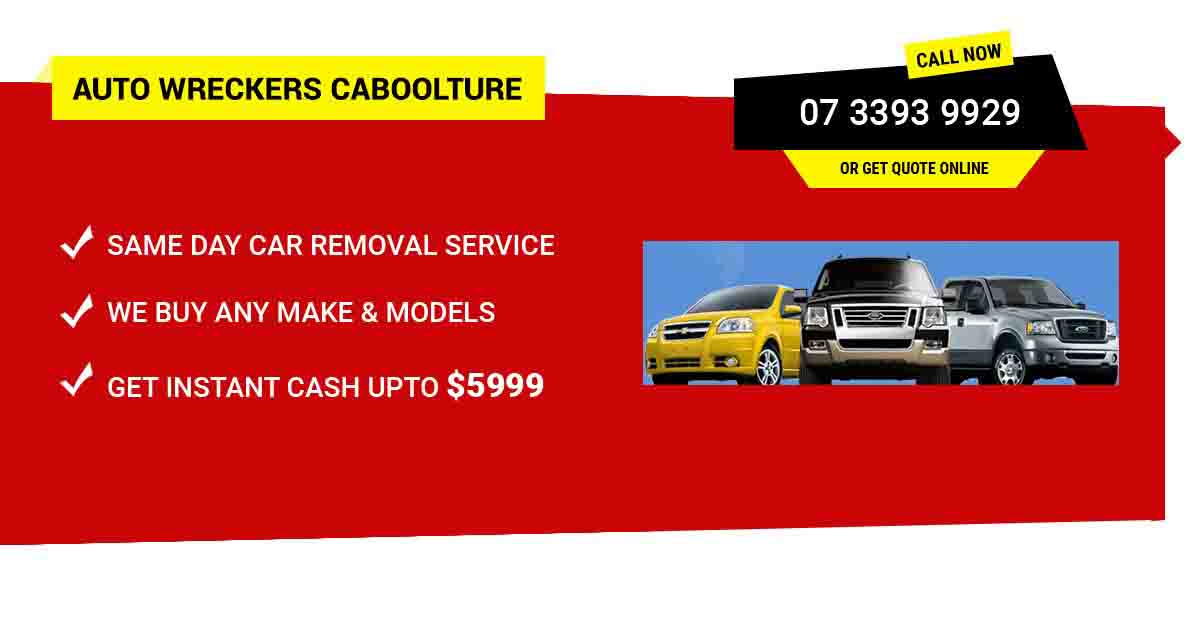 Why contact us for your scrap car collection in Caboolture?
Quick cash for scrap cars, trucks, vans, Utes, SUVs, and 4wds
Buying old, junk and unwanted vehicles of various known brands
Cost-free auto removal service through Caboolture
A guarantee to pay full cash before the car collection
Eco-friendly recycling to reduce the bad impact of vehicles on the ecological balance
Free paperwork for smooth completion of transaction process
Excellent customer care service
Receive free cash quotes instantly.
Same Hour Scrap Car Removal Caboolture
Here at QLD Wreckers, we have a well-trained and highly knowledgeable staff to help all types of scrap car owners. In fact, our team is recognised throughout Ipswich to give an effortless car removal facility. So we are your one-stop solution when it comes to removing any broken make or model with least possible fuss.
In addition to this, we pay top cash the moment we arrive to tow away an automobile. This is because we believe in offering a quick and easy scrap car removal service. We will even provide you pre-arranged paperwork to complete the deal in a legal way. Once it is done we will pick up your old clunker for absolutely free.  
Premium Cash for Cars Caboolture
In our team we have the most skilled experts to assess all kinds of automobiles in a fair way. With their excellent knowledge they are able to analyse the existing condition of vehicles. It helps them to make fair estimates for all makes and models. Normally, we pay up to $10,000 for different cars, trucks, vans, Utes, 4WDs and SUVs of various brands.  
Collecting every make and model in Caboolture
Our team is absolutely dependable when it comes to handling different makes and models. This is why we are able to give an incredible experience to the owners of junk vehicles. No matter how old or new their brand is. We can organise a quick and easy pick up for it in any part of Caboolture.
So, we can smoothly collect all major brands such as Nissan, Kia, Toyota, Mercedes Benz, BMW, Audi, Mazda, Ford, Volvo, Mitsubishi, Jeep, Chevrolet, Isuzu, Volkswagen, and much more.
Eco-friendly Auto Wrecking, Dismantling and Disposals
Being expert specialists in junk car buying we are always excited to buy all conditions of vehicles. Even if it is not worth fixing we will buy it for the parts and metals it is made up of. Our experts can recycle it by applying techniques that are friendly for the environment. This way we are able to refurbish most of its working components and metals. Thus, we are the best option for getting best quality used spare parts at reasonable prices.  
Contact us today to obtain a free quote instantly
In order to get your car estimated accurately you just need to contact us. Quickly visit our website and complete the inquiry form. Or else, you can dial: 0416 615 100, to get a free quote on the phone. We will give you the best and unbeatable price offer depending on the following details: Your vehicle's make and model, year of manufacture and existing state.