Price of your scrap car depends on 3 major factors:
Age of your vehicle

Make or model

Condition of your vehicle.
Based on the average price calculations, you can get minimum $100 and maximum up to $10'000 cash for cars in any condition. Above 3 factors help our valuation experts to get the best price for you. Call 0416 615 100 and get the value of your junk car now.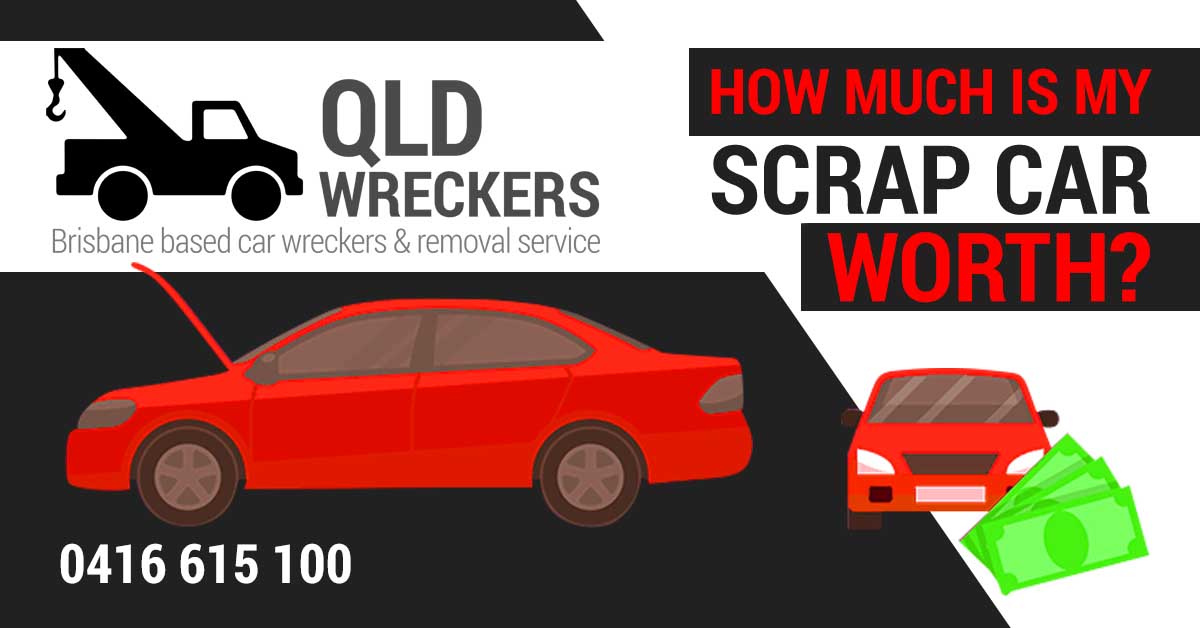 If you live in Brisbane, you will find it incredibly easy to scrap your car. All you have to do is contact a scrap car removal service in Brisbane and they will happily come over and pick it up. They will even pay you for it. This is the wonderful thing about disposing of old, passed their used-by date-vehicles.
You are basically selling your permanently broken down car. This doesn't mean that you will be getting the correct amount for it, though. Some vehicle wrecking companies love to rip people off.
Your car may have reached the status of "clunker" or "scrap vehicle" via any one of a variety of ways. Maybe its head gasket blew. Perhaps your town flooded and your car was seriously water damaged. Whatever the case may be, it will still be worth money, and if you are normal, you will want every last penny when you sell it.
Get Cash for Simply Disposing of your Scrap Car
In the past, disposing of an old and useless automobile wasn't the simple and easy affair that it is today. One would need to hire a towing company to transport the vehicle to a landfill. They would then dump the has-been transportation machine at that landfill in question.
This was how it was done, but the results were not good for the environment. It was a waste of resources and materials that could have been re-used. There are still fluids left inside your average junk car, so those old ones that were dumped would have leaked. And those fluids are toxic, harmful to plantlife and wildlife. This is why it is bad to dump cars in a landfill, or even leave them anywhere to rot away. This includes parking them up on your lawn for years on end.
One Person's Trash is Another Person's Treasure
It may seem a little bit counter intuitive, but the truth is that scrap cars are worth money. It isn't just that they are made from materials that can be re-used, those materials make up parts that are still in good enough condition to be used once again on another vehicle. This makes them valuable. Hence, the car as a whole is still valuable. But how does one decide what the overall value is, exactly?
How a Car is Valuated Properly
An important aspect that is considered when deciding how much a scrap car is worth is the overall weight of the car in question. It tells us how much steel is on the vehicle, which gives us a value based purely on how much steel and other metals will be there to salvage.
But a very good auto wrecking company, such as Brisbane's Qld Wreckers, will not stop there. They will want to know about all the parts on the car, as they sell used parts. They get those used parts from the old, used, and sometimes permanently broken down cars that they buy from people.
This is why, when you sell your car to one of these outfits, you want to make sure you choose the right one. It ensures that you get the best amount of money if you can sell to the folks who sell used parts, as they will pay you so much more. It goes without saying to remove your state of the art stereo system beforehand.
Junk Car Parts are Worth Good Cash
It may be an option for you to do the parts salvaging yourself. The auto dismantling service is almost like a middle-man, and they take a cut of the car's value in order to make a living. If you take your clunker to pieces and sell them yourself, you get one-hundred percent of the earnings.
Although you get all the cash for your scrap car, you will be putting in all the effort. And don't forget all the time as well. Your weekend will be all booked out. Perhaps the next weekend as well. But that isn't the only catch. If you don't have the correct tools in order to perform the job of parting a car out yourself, don't even think about it. And there are some fairly important tools you will need, including a hoist for the engine.
The bad news doesn't end there for all those folks who want to do this themselves. If you don't have the required mechanical knowledge, you will more than likely only make a giant mess and wreck the parts making them worthless. If you can find a friend or relative who has these skills, that will suffice.
Most People Need Scrap Car Removal Experts
When you think about it, most people will not be able to sell their car piece by piece. They will need to sell it to someone who can do it for them. It is the best and most simple way to get rid of a problem vehicle of any kind. You don't have to lift a single finger, except to get in touch with the company in question in the first place.
If you choose the correct company to sell your automobile to, not only will they pay you good money for it, but they will also remove the car for you as well. And they will do it free of any charge at all. This is the best method for getting rid of a vehicle that serves no purpose to you anymore. Qld Wreckers will buy your car regardless of what make or model it happens to be. They will buy it no matter what condition it happens to be in.
Get a Free Quote from Qld Wreckers
Finding out how much your scrap automobile is worth is as easy as selling your vehicle to a wrecker. If you live in Brisbane, Qld, the best one in town is Qld Wreckers. Call us up at 0416 615 100 or fill out the form on our website, and tell us all about the vehicle you want to sell. We will provide you with a no obligations attached free quote in no time at all.