Mercedes Benz Wreckers Brisbane
Throughout Brisbane, car owners now have a way to sell their vehicles without having to go through all the stress and hassles normally associated with the activity. We here at QLD Wreckers have streamlined the process into one that can be over within one day, and you don't have to lift a finger. And don't worry about money, as we pay up to $10,000 for any Mercedes Benz that you need to sell.
Pick up the phone and give us a call at 07 3393 9929 and sell your Mercedes Benz to us via the most simple, easy and convenient method for selling cars ever devised. QLD Wreckers will pay the most money, and if a competitor gives a more generous quote we will match it automatically.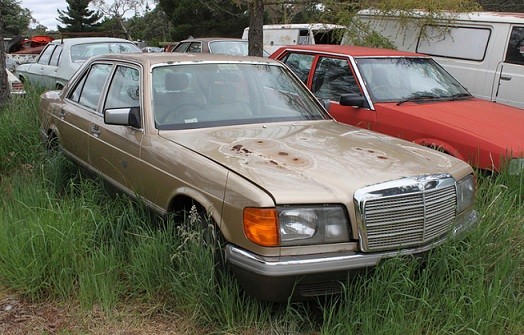 Any Condition Wanted to Buy
If your Mercedes Benz is one of those junk vehicles you sometimes see outside people's houses, making the property look like a makeshift junk yard, then you might have trouble finding someone to take it off your hands. Because to most people, the condition of a vehicle matters, and the word junk implies the worst condition possible. We buy all sorts of European vehicles, regardless of the condition. We accept broken, junk, scrap, no COF, no WOF, rusty or totally unwanted Mercedes vehicles for the best cash price.
However, we here at QLD Wreckers will be glad to buy a junk Mercedes Benz, because we aren't buying it for transportation purposes. We're buying it so we can recycle it.
Any Model of Mercedes Benz Wanted
We aren't in the habit of looking at particular models and rejecting them. We want all the Mercedes Benz models that there are. The reason being that we need to get as many vehicles as we can and if we discriminate against certain models or makes than that will only mean getting less cars. So if your Mercedes Benz is a Mercedes Benz 2000, C Class, B 180, A150, 280 SE, E240, S Class or SLK, it doesn't make a difference as to whether we will buy it or not.
As a leading Mercedes Truck Wreckers in Brisbane, We take care of all the trucks & commercial vehicles as well.
Free Mercedes Benz Removal through Brisbane, QLD
Get the free pickup or Qld Car removal through Qld. We are happy to come to your location, assess the vehicle and get rid of without charging you any hidden fee. Our Car removal services are responsive and hassle-free. As a reputed Brisbane Wreckers, we have incorporated the most advanced Wrecking vehicle as a part of great service.
Quality Used Mercedes Benz Parts
Has your Mercedes Benz broken down? You'll be wanting to have it repaired then. If you need any specific part, feel free to contact us. We'll find the part you need, because we have a huge inventory and they are all in such great condition, and at prices that won't leave you unable to pay the rent. Book your Mercedes Parts Online with us and we can deliver the part to your door, delivery charges will be applied.
Finally, sell your unwanted Mercedes vehicle today and get paid in full. As a leading European Wreckers, we are glad to pay the best price for your vehicles.